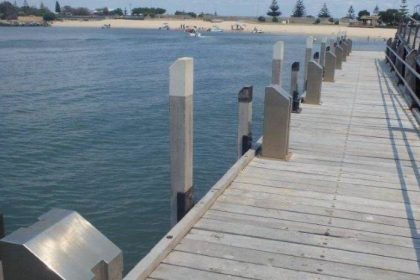 THE 46-year-old man involved in a sea biscuit incident in the Koombana Bay ski area where a 15-year-old girl was airlifted to a Perth hospital with serious injuries has been sentenced in court.
Kevin Alan Whyatt faced Magistrate Brian Mahon at the Bunbury Magistrates Court on Monday, February 29.
He pleaded guilty to a charge of culpably driving a conveyance involved directly or indirectly in an incident causing grievous bodily harm.
The charge relates to an incident on January 6 where Whyatt was the skipper of a Sea-Ray 185 sports ski which is an 18-foot vessel with a 220 horsepower in-board motor.
About 1.05pm, Whyatt had six passengers on board his vessel and towed two behind the boat including 15-year-old Amie Lee Clamp and one other 15-year-old boy.
While towing the biscuit, he turned the boat left and then right with the aim of making the biscuits bounce over the waves made by the boat.
About 1.15pm, Whyatt drove the vessel towards the jetty outside of Mash Brewery and turned sharply but the biscuits collided with another vessel moored at the jetty.
The court heard Whyatt breached water regulations by driving the vessel within the regulated 45 metres of a jetty and exceeded the prescribed eight knots per hour limit.
Injuries sustained by the 15-year-old girl included swelling and bleeding on the brain.
The boy was taken to Bunbury Regional Hospital.
There was no victim impact statement read in court and she is expected to make a full recovery.
Whyatt, supported in court by the girl's father who was also the boat's spotter on the day, is a father of two with no criminal history.
His lawyer Mark Andrews said Whyatt was selling the vessel and was regretful of the incident.
Magistrate Mahon said while the girl's father spoke highly of Whyatt, he needed to impose a sentence which was appropriate and also a warning to the community.
"I'm not sure whether this was complacency or oversight but my sentence needs to mark the seriousness of the incidence but also doesn't crush you," he said.
"It also needs to make a note for other water users to be safe.
"I can see you have lost a few nights sleep over this."
Magistrate Mahon acknowledged the family of the young girl there supporting him and also his early plea of guilty.
He fined Whyatt $8000 and ordered him to pay court costs of $88.50.